EXHIBITIONS & EVENTS
Weird Babes may also be available in New York at Mast Books, Molasses, Topos, Quimby's, Marfa's Mira Marfa, Oakland's Eastman books, and elsewhere. Also participating in book and zine fairs from 8 ball to WGXC Wave Farm Record Fair at Basilica Hudson.
OPEN LETTER TO ARTISTS I'VE ASKED TO PARTICIPATE (if you are interested, please contact me):
As some of you may know, I've been curating shows on the topic of muscle memory and process for a few years now, and also run a little tumblr called Weird Babes (site will be revamped soon) that I've been using as an umbrella name for my curatorial production endeavors. My next project will be to publish a series of Zines, namely a 'Digest Series'.
Often times, as artists, we are uneasy about showing our work to others (friends, public) because either we are our biggest critics, someone tells you something is not good enough, or the ideas are not yet developed completely. The point of this series is to release ideas into the world that you think are not ready, without the pressure of needing it to be ready. Think more a means to the end. To reach a different audience outside of your Instagram account. The zine highlights works-in-progress, thoughts-in-process....digest ideas.
Some artists will have their own zines depending on content, and other will be paired together.
Each artist will be given a voice to explain why this idea is unfinished, why they decided to present it in the issue, if you so wish.
A disclaimer for readers will be, 'recommended for consumption: A grain of salt.'
If you are interested in participating, please e-mail me back and we can discuss further logistics, but I'd love for folks to turn in things between the dates of Immediately - October 12th. The zines will be published throughout 2017.
If you have other ideas for publications you'd like to work on together, let me know and we can discuss future projects together.
All of my love,
Caroline
CURRENT
PAST
Presented by AGBU Performing Arts and the Wythe Hotel
MUSCLE MEMORY AND THE MOVING IMAGE:
AN EVENING CELEBRATING THE WORKS OF CONTEMPORARY ARMENIAN FILMMAKERS

Introductory remarks by Hrag Vartanian of Hyperallergic
Participating Artists:
Atom Egoyan & presenting Sonia Balassanian, Melissa Boyajian, Jacob Halajian, Emily Mkrtichian with Anahid Yahjian
Date/Time:
Monday, April 25, 2016
7-10p
Location:
Wythe Hotel
80 Wythe Avenue
Brooklyn, NY 11249
Ticket Information:
$30 (includes unlimited popcorn)
*All funds go directly towards the AGBU Humanitarian Emergency Relief Fund for Syrian Armenians
Buy Tickets Here
About:
This evening celebrates the works of inspiring and active Armenian filmmakers and artists. Set a day after the date of the Armenian Genocide Commemoration Day, April 24th, this screening is intended to remember and celebrate, rather than to grieve. April 24, 1915, historically marks the start of the systematic efforts by the Ottoman Turkish regime to annihilate all Armenians off the face of this planet. While the events set in motion on this date are undoubtedly tragic, that Armenians survived and prospered in spite of these attempts is a testament to the willpower and strength of the Armenian people and a cause to rejoice.
The short films shown here by Atom Egoyan, Sonia Balassanian, Melissa Boyajian, Jacob Halajian, and Emily Mkrtichian with Anahid Yahjian provide insight into an individual's memory through movement and the actions associated with reliving these emotions, including loss, fear, and nostalgia. Like a court reporter documenting every word and gesture, your muscles contain a transcript of everything you encounter. The experiences captured by our muscles in our daily movement may become dormant, but can resurface at any time within our lives through kinetics and physical movement, a process known as abreaction. Acknowledging this phenomena now, in conjunction with the commemoration of the Armenian Genocide, is appropriate, as this is a time to appreciate stories our relatives shared with us or experiences we have had firsthand, that may otherwise remain buried in the routine cycles of daily motions.
*All funds raised for this event will go directly towards the AGBU Humanitarian Emergency Relief Fund for Syrian Armenians.
"If a muscle could talk, what would it say?"
Yvonne Rainer, 2011
ABREACTION 3: MUSCLE MEMORY IN THE CONSUMPTION OF FOOD
September 24-26, 2015
FLUX FACTORY
39-31 29TH STREET, LONG ISLAND CITY, NY 11101
· Thursday, September 24th, 6-9p / Soft Opening
· Friday, September 25th, 6-10p / Opening Party & Performances by Ariel Abrahams, ChristinaNoel & the Creature, Bonella Holloway, & Katy McCarthy
· Saturday, September 26th, 2-7p/ Closing Day and 5p Discussion with Artists Bonella Holloway & Katy McCarthy, More Details TBA
Flux Factory
39-31 29th Street
Long Island City, NY 11101

Contact:
caroline.partamian@gmail.com
Web:
http://www.fluxfactory.org/events/abreaction-3-muscle-memory-in-the-consumption-of-food/

Abreaction is the extraction of memory stored within a muscle, resurfaced through kinetics and physical movement, of which the individual was previously unaware. Muscle Memory in the Consumption of Food continues the Muscle Memory series conceptualized by Caroline Partamian, and invites artists to create a piece that forces the viewer to engage in the their deeply embedded traumatic, comforting, erotic, and grotesque food-related memories. Video, multimedia, and performance works explore the aesthetics of specific foods and the behavior of eating through the senses.
Artists: Ariel Abrahams, Vaba Billity, Michael Borowski, ChristinaNoel & the Creature, Eva Dean, Christian Hendricks, Bonella Holloway, Marguerite Kalhor, Sarah Manuwal, Jamie Mayne, Katy McCarthy, Andrew Murphy, Netta Sadovsky
About the curator:
Born and raised in Los Angeles, California, and currently residing in Brooklyn, New York, Caroline Partamian is an independent curator, artist, and chef. Caroline's exhibitions focus on the theme of kinetic memory and somatics in relation to dance, performance, and other more tangible mediums of art. She also plays guitar in the collaborative psych-punk project SCULLY.
Sponsored by Rippers and Trader Joe's.
ABREACTION 2: MUSCLE MEMORY IN THE MIDDLE EAST AND THE CAUCASUS
JULY 10-23, 2014
FREEMAN SPACE
155 FREEMAN STREET, BROOKLYN, NY
Curated by Caroline Partamian
Designed by Isabella Bruno
Press images: http://bit.ly/1ySgLP4
See press release for artist and show information: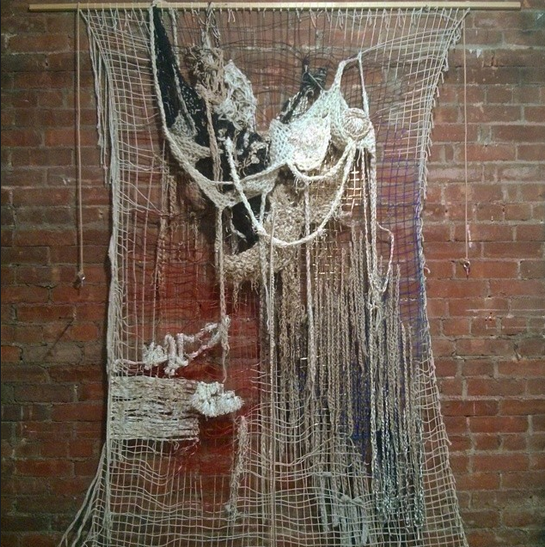 ABREACTION: MUSCLE MEMORY IN NON-EPHEMERAL ART FORMS
OCTOBER 18, 2013
TRI-LOX WOODSHOP
at old 273 CALYER STREET location (currently at 228 INDIA STREET), BROOKLYN, NY

"If a muscle could talk, what would it say?"
- Yvonne Rainer, 2011
ab·re·ac·tion
abrēˈakSHən/
noun
the extraction of memory stored within a muscle, resurfaced through kinetics and physical movement, of which the individual was previously unaware

The artist's intentions for an artwork can be indeterminate when first approached – when the pen first hits the paper, when the brush makes the first stroke, when the finger clicks the shutter button. The process of developing and creating a composition can unexpectedly surface back-catalogued emotions, memories, and traumas.
This exhibition focuses on the process of creating artwork through the lens of kinetic memory.
It is possible to understand the effects of kinetic memory on art by using dance – a highly kinetic art form - as a prototype. Dances, choreographed to a predetermined set of movements, are not always finite when performed. They vary from performer to performer, and thereby from performance to performance – depending on skill set, physical strength, mental capacity, and comprehension of a piece. Using dance to understand the process of creating other, less ephemeral and seemingly more finite art forms, can present some parallels about the artists' intention, improvisation, and abreaction.
The effects of setting up this exhibition in a raw, seldom observed hallway to reclaimed wood workshop, Tri-Lox, can draw reference to the reclamation of memories that were once ours, once stored infinitely in our muscles.
*Thank you to Tri-Lox for hosting this independently curated exhibition. This exhibition creates no profit from the display of the artworks presented.
For more photos of this exhibit, please click here.

U-HAUL GALLERY | OAKLAND FIRST FRIDAY ART WALK
May 7, 2010
Oakland, California
PARKED AT 23RD AND TELEGRAPH, OAKLAND, CA
Execution made possible with the aid of Jason Wexler